Tandem Flights
A unique experience. A tandem flight will uniquely give you the experience of your life to
overcome gravity and fly with the birds
see the world from the most spectacular viewpoint
pass over mountain peaks, vertical cliffs, towns and villages, beaches and archaeological sites in a way that only birds can.
Requiring you to do nothing more than take a few steps at take-off and at landing, you will fly safely, comfortably and calmly with free hands to point, take photos or video, talk freely with the pilot and marvel. For those with a bit more adrenaline, some acrobatic maneuvers will increase the Gs. Just ask the pilot and you can experience more fun than at a funfair ride.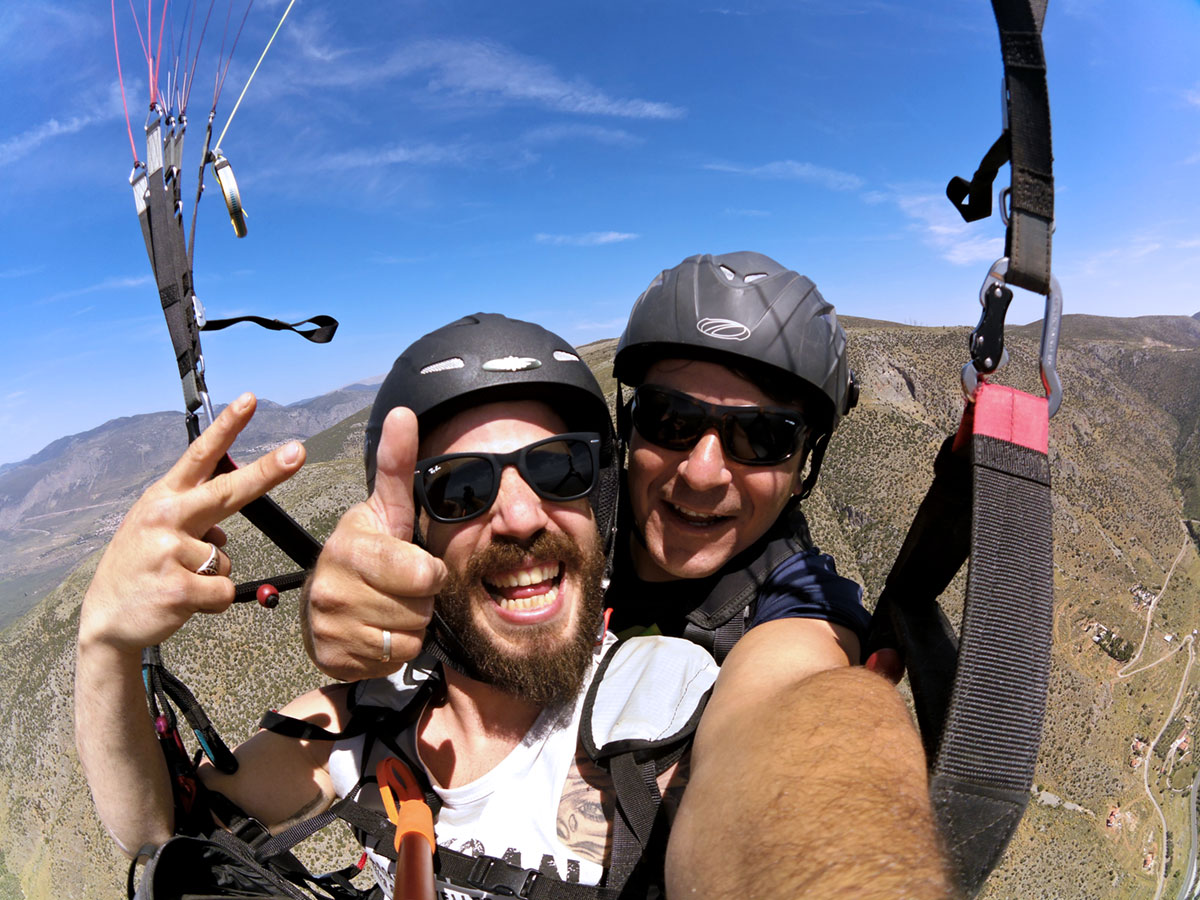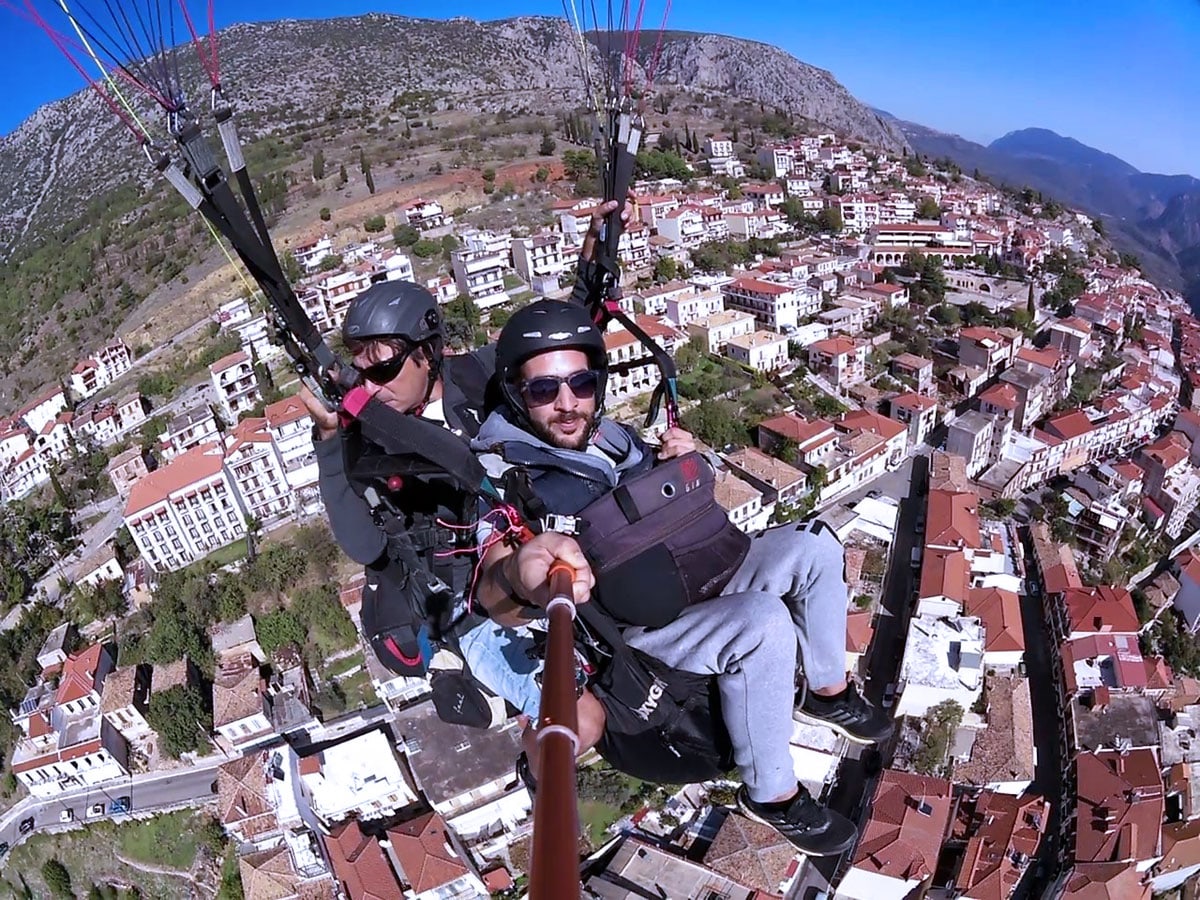 TANDEM FLIGHTS AT DELPHI
One of the most famous ancient sites in Greece, the town of Delphi is located above a 300-meter vertical cliff almost as dramatic as the monasteries at Meteora. In ancient times Delphi was the location of the most famous of the oracles, visited by the most powerful rulers seeking to know the future. As a result, Delphi became one of the richest towns with astounding temples and other important buildings and important from pre-historic to Roman times. The site today is most impressive and the museum filled with treasures including the famous statue of Iniohos.
For us, Delphi is also an amazing place to fly. The take-off is just outside the town at about 500 meters above sea level. The beauty is breathtaking and one can fly above the cliffs full of caves, often accompanies by local birds of prey and even over the town and the ancient site itself. The valley below is the largest olive grove on the planet with over 1.2 million trees and all in full view of the coast of the Corinthian Gulf below.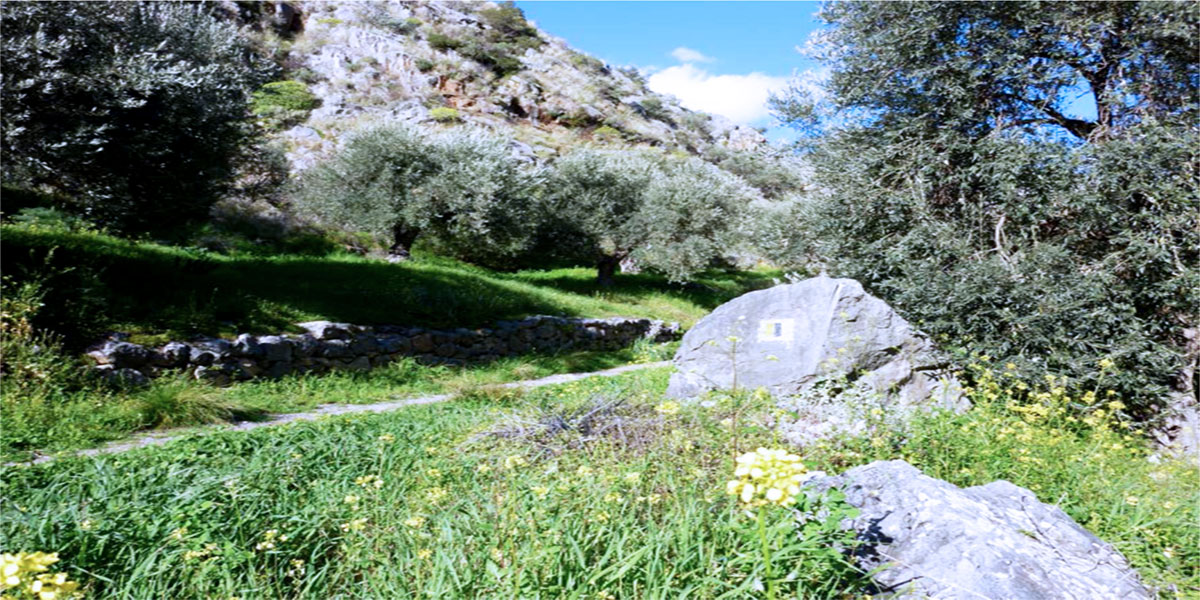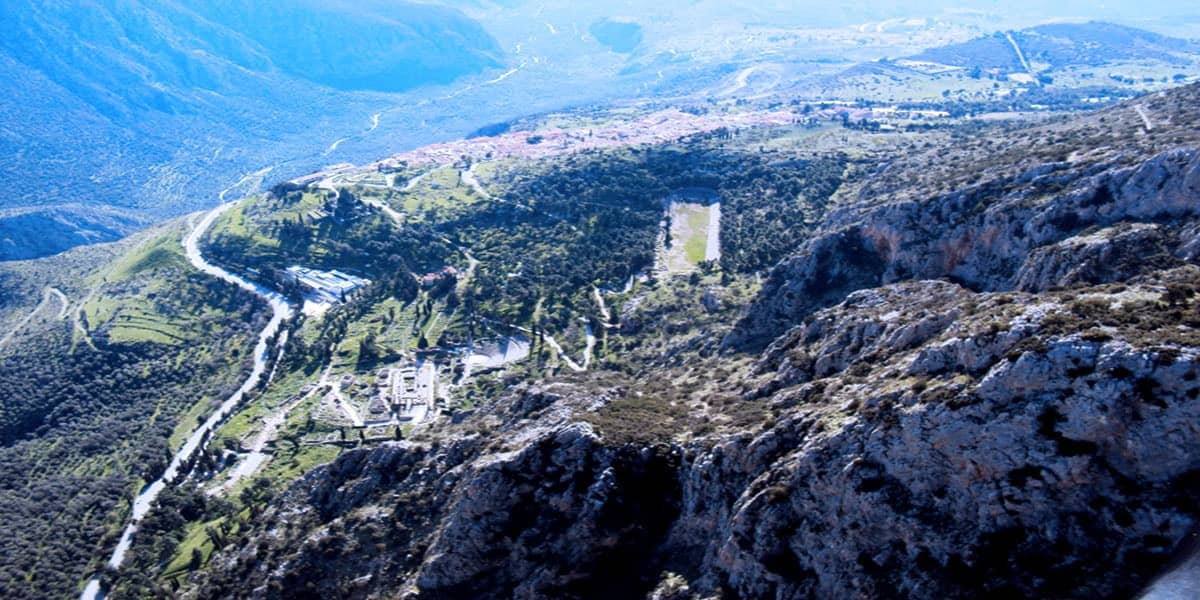 Visitors to Delphi have much else to do in the area apart from the flying and the ancient site. Hikers have a wide choice of walks either upwards on ancient stone paths from Delphi towards the Parnassos mountain or down from Delphi to the coast at Kirra the ancient port of Delphi. In only a few minutes drive from Delphi one can visit the 1,000-year-old monastery of Prophet Elias with its astonishing wooden carved chapel.
OTHER TANDEM FLYING SITES NEARBY
The flying school Paragliding Fun is active in all of the Fokida prefecture. The area has many take-offs suitable to all kind of wind directions. Is the only place in Greece that you can fly all year around with good enough thermal conditions even during the winter.